Online Store Owner Centre
Do you own an online shop in the Philippines? PriceMe is the ideal partner for you, and we'll drive traffic to your store and help you increase your sales. PriceMe operates on a Pay Per Click basis (PPC), and we charge a referral fee for each shopper visiting your site.

PriceMe is 100% performance-based. There are no set-up fees, listing fees or other sneaky charges involved. You only pay for high quality leads that are likely to convert on your site.


PriceMe Shopper Partners
Our clients include some of the leading online retailers in Philippines. Here's a sample of retailers you will find on PriceMe: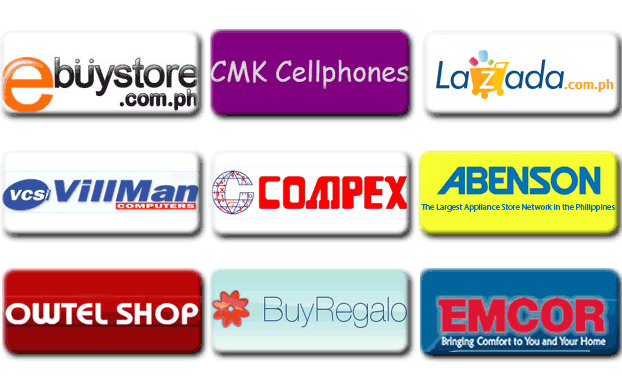 Getting your products listed is on PriceMe is straight forward. You need to create a product feed file. Please find more information regarding the feed file here.


1. Cost effective referral channel - you only pay for high-quality leads.
2. Branding - being associated with a leading shopping research tool.
3. Exposure - target your products to thousands of Filipinos.
Frequently Asked Questions
What is PriceMe?
Which benefits do the PPC program offer participants?
What does PPC mean?
How much does the program cost?
How much traffic does PriceMe generate for me?
How do I submit my products to PriceMe?
How do I join?
PriceMe is a rapidly growing online comparison shopping website in the Philippines. Our goal is to bring qualified buyers who are looking for products to buy and match them up with our retailer partners who sell those products. For retailer partners, PriceMe is a pay-for-performance comparison shopping engine. We provide comprehensive price and product comparison and a clean, uncluttered interface which allows consumers to do what they came to do: compare and buy.
1. Receive more targeted traffic - one of the biggest challenges in ecommerce is driving quality sales leads. The consumers clicking through to PriceMe's retailer partner websites are already well- informed and ready to buy, not just browse.
2. Higher conversations and ROI - PriceMe offers higher conversion rates than other online marketing channels due to the highly educated leads generated by providing consumers comprehensive shopping information prior to visiting a partner website:
o Full range of pricing options - so users are confident they see the full range of pricing.
o Detailed product specifications and comparison tables - for buyers to evaluate their options.
o User friendly filtering functionality - so users find exactly what they want.
o User reviews - to drive prospects confident in their product choice.
o Comprehensive buyer guides - to educate and inform consumers.
The higher than average conversion rates implies more sales at a lower cost and thus a higher ROI.
3. Brand building - retailer partners enjoy increased exposure by displaying their company logo for each product listing among many other benefits. Partners also have the possibility to display a sales slogan next to the logo, and are also promoted as a featured retailer on the website and in PriceMe ads. Associating your brand and products with a trusted NZ shopping engine like PriceMe is a great way to build consumer recognition and confidence. Please contact us for all the details regarding the benefits that retailer partners enjoy.
4. Better Reporting - Using the Price Me Account Management (PAM) system, retailers can gain insight into the competitive landscape and understand the performance of their campaign on a summary, category, even product level. Analyzing campaign elements like: clicks, traffic share, positioning and cost all aid in understanding how you can drive sales leads through PriceMe.
PPC stands for Pay Per Click and is pay for performance model similar to Google Adwords. PPC implies that you're charged a small fee only when a PriceMe user clicks through to your website.
There is no listing fee and no commission on sales. The pay-for-performance system ensures that retailer partners only pay a PPC cost for each visit. PPC (Cost Per Click) is the pre-determined amount retailers pay on a per category basis for each new sales lead PriceMe generates. There is a $20 minimum monthly fee in case your spend is less than this amount, and you only pay for sales leads (click throughs)! That's it! So why not try out the program and start driving quality leads to your website directly?
You can check out the amount of visitors using PAM. The management team at PriceMe has years of experiencing in acquiring traffic though partnerships with major websites, paid and natural search, and through new products. Hence, expect the traffic levels to increase the coming months as we keep promoting the website and acquiring high-quality traffic. In addition, comparison shopping is also gaining traction in New Zealand and more and more consumers are likely to use this kind of shopping services in the near future.
After a retailer has signed up through contacting us, the product data can be submitted using a data feed. Currently both CSV and XML formats are supported. PriceMe can also crawl your website for a small fee in case you prefer this option. Please contact us for more information.
Please contact us if you're interested in becoming a PriceMe retailer partner.
PriceMe Retailer Kit
Want to learn more about PriceMe? Then check out our Retailer Kit, which answers the important questions what, why and how and aims to give you an insight into PriceMe.

View the PriceMe Retailer Kit.
Feed Format
After a retailer has signed up through contacting us, the product data can be submitted using a data feed. Currently both CSV and XML formats are supported. Alternatively, PriceMe can also crawl your website for a small fee in case you prefer this option.

Once you have created a feed and have provided us with the URL indicating where it is located PriceMe can start scanning your feed. A bot reads the data in your feed and PriceMe uploads and maps your products into their respective categories on the site. We rescan your feed daily to update any changes you may have made.